Fight for Land, Fight for Life! Intensify the struggle against global land grabbing!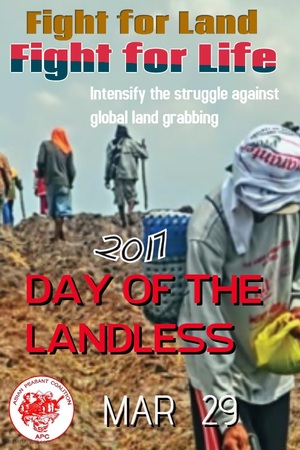 The militant tradition of commemorating the "Day of the Landless" led by the Asian Peasant Coalition (APC) and its network continues this year on March 29 with the theme "Fight for Land! Fight for Life! Intensify the struggle against global land grabbing!"

March 29 is a historic event in the people's struggle for land and resources in Asia. On the same date 14 years ago, the Asian Peasant Coalition (APC) was founded and has, since then, consistently taken the task of challenging imperialist and feudal oppression and exploitation.

This year's Day of the Landless will be marked by coordinated actions among the members of APC and networks in Bangladesh, Cambodia, India, Indonesia, Malaysia, Mongolia, Nepal, Pakistan, Philippines, Sri Lanka and Thailand.

Once again, we will highlight our struggle for genuine land reform and food sovereignty. We will intensify our struggle against all forms of imperialist and feudal exploitation and unite with our counterpart peasant formations globally. We will link arms with other anti-imperialist movements and formations in other parts of the world to further strengthen our ranks and defeat imperialism.

Worsening landlessness can be seen from the 2016 Land Matrix report covering almost 27 million hectares of agricultural lands that have been transferred into the hands of foreign investors since 2000. They are covered in more than 1,000 land deals that have been sealed during the said period. A separate 2016 report by GRAIN claims that there have been 491 large-scale land grabs that took place over the past decade covering over 30 million hectares in 78 countries.

Land Matrix also reported that food crops continue to play the major role in land grabbing, both in terms of number of deals (553) and area (9.2 million hectares), followed by unspecified agricultural intentions – mostly involving oil palm (263 deals on 5.6 million hectares) and agrofuels (221 deals on 5.1 million hectares). The crops planted most often are oil seeds, including oil palm and jatropha, cereals such as corn and wheat, and sugar crops. Most of these crops can also be used for fuel or renewable energy.

Gulf governments are still promoting overseas farming and buying farms abroad. China, Japan and South Korea have also maintained official policies on overseas farming as part of their food security agendas. Africa, Brazil and Australia remains food security-driven land grabbing. (Grain, 2016)

Predatory agribusinesses are aggressively expanding. Oil palm plantations alone are responsible for a large portion of land grabs in the food and agriculture sector in the last few years. Much of this expansion is led by Asian conglomerates like Wilmar, Olam and Sime Darby, which are carving out massive chunks of territory in Africa, as well as Latin America, East Asia and the Pacific. They are building infrastructures, revising regulations and entering into new "public-private partnerships" that facilitate private sector investment in agriculture, including farmland acquisitions, at the expense of the toiling masses. They are also signing new trade and investment agreements and aid packages aimed at facilitating the expansion of agribusiness. (Grain, 2016)
Farmland grabs are also water grabs. A frightening number of water guzzling operations are being erected in water conflict zones (e.g. along the Nile), upstream from water dependent communities (e.g. the Lurio River project in Mozambique) or on top of non-renewable underground reserves (e.g. Sudan). When drought hits, as it did in much of Asia and Africa in the first half of 2016, communities living next to these plantations see their access to water evaporate. This is what is currently happening in communities living next to the new sugarcane plantations in Cambodia and Ethiopia's Lower Omo Valley. (Grain, 2016)

These land grabbing and monopoly thru various forms of land deals are taking place with the full support of governments victimizing landless peasants. Foreign state aid donors emphasized the need to attract foreign investments. Land laws were amended to make buying, selling and leasing lands easier in many countries.

Land grabbing is often accompanied by militarization and vicious violations of the human rights in the countryside. Global Witness reported that from 2002 to 2015 there have been 1,209 killings of land and environmental activists worldwide. The trend has worsened with the average killings per year more than doubling from 55 annually between 2002 and 2009 to 128 yearly cases between 2010 and 2015. From June 2015 to October 2016, the PAN Asia Pacific's (PANAP) has monitored some 4,685 cases of human rights violations that are related to land conflicts globally – or almost 276 violations a month. The cases include displacements, killings and frustrated killings, arbitrary arrest and detention, filing of trumped up charges, threats and harassment, and enforced disappearances. During the same period, PANAP has also monitored 231 killings or almost 14 killings per month. Despite this, the peasant resistance in Asia is growing.
Now, more than ever, the farmers, indigenous peoples and small-scale producers of Asia are called upon to intensify our fight for land.

Our Calls:
Fight for Land, Fight for Life!
Defend our Land, Defend Our Biodiversity!
Stop Land Use Conversion and Plunder of Resources!