Staff
GRAIN is a small and like-minded group with an ambitious agenda. Our team is presently composed of ten programme staff and three finance, administration and fundraising staff. Six of us are women and together we represent eleven nationalities. Rich in our diversity, GRAIN functions as a collective, with a horizontal management system and participatory decision-making.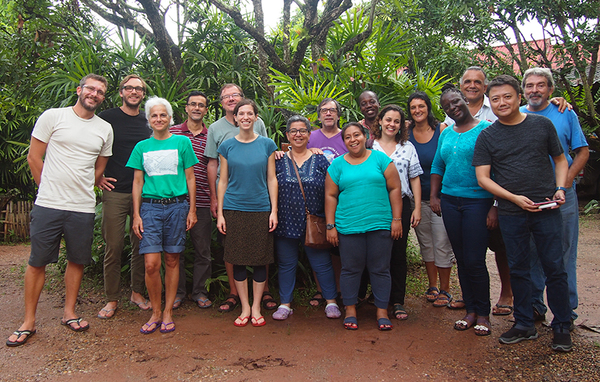 Staff with a global focus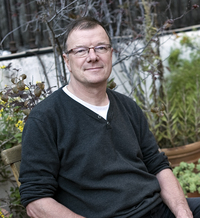 Henk Hobbelink
Henk is an agronomist by training. In the 1980s he worked with farmers in Peru on sustainable pest management and after that he worked with Dutch and European NGOs drawing attention to the importance of agricultural biodiversity for the future of farming. In 1990, he co-founded GRAIN and over the past two decades has helped the organisation grow into an international collective that works to support small farmers and social movements in their struggles for community-controlled and biodiversity-based food systems. Henk is the coordinator of GRAIN, and as such is responsible for the overall functioning of the organisation as well as conducting research, writing and outreach activities.
Languages: Spanish, English and Dutch

Location: Barcelona, Spain

Email: henk[at]grain.org

Telephone: +34 93 301 1381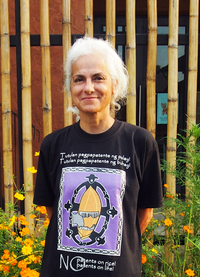 Renée Vellvé
Renée started working with Henk in 1987 to help run the ICDA Seeds Campaign. In 1990, they co-founded GRAIN as an independent organisation. Renée works on the global programme and helps with the coordination of GRAIN. She is currently based in Paris, France.
Languages: English, French, Spanish

Location: Paris, France

Telephone: +33 6 75 07 34 68

Email: renee[at]grain.org

PGP Key: 7E9308BA
Devlin Kuyek
Devlin joined GRAIN in 2003, after working with NGOs and peasant organisations in Malaysia and the Philippines. He is GRAIN's most active researcher, focusing on monitoring and analysing global agribusiness, including the global land rush. Devlin is based in Montreal, Canada, and spends time supporting partners and staff in the regions as much as possible.
Languages: English, Fren

ch and (some) Spanish
Location: Montreal, Canada
Telephone: +1 514 5717702
Email: devlin[at]grain.org
PGP Key: D612B511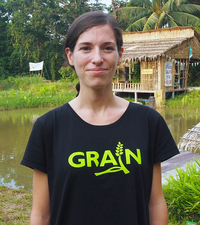 Marion Girard Cisneros
Marion joined GRAIN in 2017 and has a background in journalism. Since 2011, she has been working as a communicator in different non-profit organisations in Spain and in the Netherlands, striving for just and sustainable food systems. Marion is based in Amsterdam, the Netherlands, and is in charge of GRAIN's publications and communications.
Languages: French, Spanish, English and Italian

Location: Amsterdam, The Netherlands

Telephone: +31 686152970

Email: marion[at]grain.org
Staff with a regional focus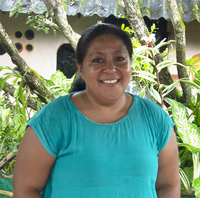 Kartini Samon
Kartini joined GRAIN in 2013 after several years working with the Indonesian peasant movement, SPI, and supporting La Via Campesina South East and East Asia Youth's communication team, has nutritionist and rural development background she's actively involved with the peasant and rural youth movements in her country. Kartini's responsibility is to support GRAIN's partners in Asia and to implement the programme in the region.
Languages: Indonesian and English

Location: Jakarta, Indonesia

Telephone: +62 813 14761305

Email: kartini[at]grain.org
Camila Montecinos
Camila joined GRAIN in 2002. She is an agronomist who has worked with small farmers for most of her professional life, especially through the Chilean organisation CET and a number of years with the global CBDC programme. Camila's responsibility is to support GRAIN's partners in Latin America and to help implement our programme across the region. On GRAIN's behalf, she is an advisor to the Biodiversity Commission of La Vía Campesina and she participates actively in producing Biodiversidad magazine.
Languages: Spanish, English, Portuguese and French

Location: Santiago, Chile

Telephone: +56 2 2224437

Email: camila[at]grain.org
Ramón Vera Herrera
Ramón joined GRAIN in 2009. He is the overall editor of Biodiversidad, a quarterly magazine produced in collaboration with 10 partners in the region. He also works actively with the rest of GRAIN's Latin America team in advancing our programme in the region. In addition, he edits the Mexican monthly Ojarasca, translates international writers for the Mexican newspaper La Jornada and is actively involved in the struggles of indigenous peasants in his country.
Languages: Spanish and English

Location: Mexico DF

Telephone: +52 5556155527

Email: ramon[at]grain.org
Carlos Vicente
Carlos joined GRAIN in 2001, after many years with CETAAR, a group which works on the promotion of medicinal plants in Argentina. A pharmacist by training, Carlos' role in GRAIN is to coordinate our information and outreach work in Latin America, as well as support GRAIN's partners and help implement our overall programme in the region. He also participates in bilaterals.org and farmlandgrab.org and, as member of the Argentine group Acción por la Biodiversidad, helps run biodiversidadla.org.
Languages: Spanish and English

Location: Marcos Paz (Buenos Aires), Argentina

Telephone: +54 220 4774581

Email: carlos[at]grain.org
Ange-David Baïmey
Ange-David joined GRAIN in 2014. His responsibility is to support GRAIN's partners in Africa, with a particular focus on Eastern and Southern Africa, and Ghana, and to implement the program in that part the continent.
Languages:

French

and English

Location

: Accra, Ghana

Email:

ange

[at]

grain.org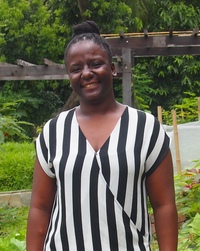 Susan Nakacwa
Susan is a journalist by training and joined GRAIN in 2017. Her passion lies in researching, documenting and making the case for smallholder farming on the African continent. She strongly believes that smallholder farmers are the custodians of healthy and sustainable agricultural practices and are our only hope in fixing our broken food system. Apart from implementing GRAIN's programmes across the region, Susan also supports and works closely with GRAIN's partners in Eastern and Southern Africa.
Languages:

English, Luganda

Location

: Kampala, Uganda

Email:

susan

[at]

grain.org
Finance and administration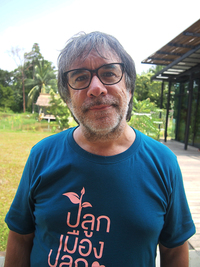 Aitor Urkiola
Aitor joined GRAIN in 2000, coming from a long experience with NGO work in the Basque Country. Aitor is in charge of GRAIN's overall administration, financial management and organisational development. He also backs up the coordinator when needed and plays a key role in making sure GRAIN's vital communication tools work.
Languages: English, Spanish, Basque and Catalan

Location: Barcelona, Spain

Telephone: +34 93 3011381

Email: aitor[at]grain.org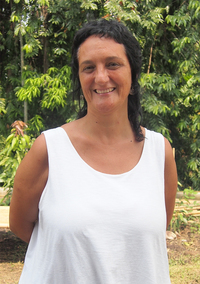 Virginia Quesada
Virginia joined GRAIN in 2014. She began her work on the defense of the rights of peasants in 1997 in the Spanish NGO VSF, focussing on internal organisational work. Her function is to support GRAIN general administration and financial management.
Languages: English, Spanish and Catalan

Location: Barcelona, Spain

Telephone: +34 933011381

Email: virginia [at] grain.org
---
Collaborations
Beyond the staff, a whole range of people collaborate with GRAIN in one capacity or another. They help us with web development, translations, publications, outreach and more. Geographically-speaking, they are as spread out as GRAIN's staff team and are essential to our operations. We are extremely grateful for their skillful help, commitment and partnership. Among them we would like to highlight Paul Pantastico, who works on GRAIN's web development from the Philippines.
We also benefit enormously from the inputs of a large range of people who helped with GRAIN's publications and other information outputs, be it as editors, translators, designers or other. These include Raúl Fernández (Spain), Odile Girard-Blakoe (France), Amandine Semat (France/Mexico), Maria Teresa Montecinos (Chile), Jean-Luc Thierry (France), Raymond Robitaille and Peter Feldstein (Canada).