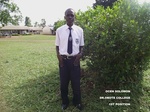 Ochen Solomon is one of four Ugandan schoolboys who wrote essays about the effects of land grabbing on the lives of their families and community as part of the annual Essay Contest for Children and Young People of African Descent 2013. This London-originated initiative encourages and supports educational development in children aged 7 to 16 years in Africa and across the African diaspora.
Ochen and his schoolmates chose to read GRAIN's report, "Squeezing Africa Dry" from a list of documents on contemporary issues.
The questions they had to address were: What are your views on the topic of land grabbing? What are your solutions to these challenges? What is your family, or people you know, doing about it?
They then conducted their own independent research on their chosen topic, and then provided their perspective on it.