A spokesperson for Nestle in China told just-food that the Swiss multinational corporation has signed an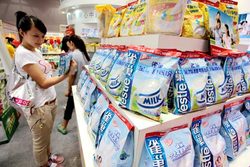 agreement with a local government in north China's Inner Mongolia region to build a 2,000 cow dairy farm in the area. The company says the farm will be "a transitional solution between small and individual farmers and a large modern farm".
Nestlé, the world's largest dairy company in the world, rarely invests in its own dairy production, preferring instead to develop supply chains with local farms or to import powdered milk on the global market. Its moves in China follow those of New Zealand's Fonterra, the world's largest milk producer and a major supplier of powdered milk to Nestlé.
Speaking to ABC Radio, Phil Turner, the President of Fonterra China, called China's dairy market an "enormous opportunity". Fonterra recently constructed several farms clustered around Beijing, with about 12,000 cows in total. The company is pursuing plans to build over thirty 5,000 head feedlot dairy farms in China, with a goal of producing 1 billion litres of milk in total per year by 2020. China's current milk production is 35 billion litres per year.
Over the past few years, multinational corporations have ramped up their efforts to take over dairy markets in the South, which remain largely in the hands of local markets and small farmers. Part of their strategy is to develop local supply chains with new mega dairy farms, which they are increasingly operating themselves. The trend and its consequences are detailed in the December 2011 report, The great milk robbery: How corporations are stealing livelihoods and a vital source of nutrition from the poor.