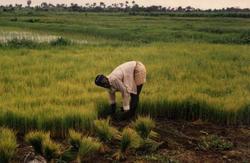 Bread for All's "Land grabbing: the dark side of 'sustainable' investments"
Groups that are interested and organising to stop land grabs from the "home base" of the land grabbers might want to look at this very well done report from Brot für Alle (BfA), about what the Swiss energy giant Addax is doing in Sierra Leone.
The report, released in November 2011, presents a series of "concerns" that BfA has about the exploitative nature of Addax's venture in the West African nation. These range from failings on the human rights front to economic and political abuses. For example, Addax claims its 14,000 hectare sugarcane project will be "climate friendly", but BfA shows otherwise. Similarly, Addax like other foreign companies argues that it is being ethical by respecting existing land rights. But this is blindness, not sustainability, and, as BfA indicate, it will serve to lock in existing inequities.
A well done paper, well worth the read.
More about BfA: http://www.brotfueralle.ch/en/english/
More about the Addax deal: http://farmlandgrab.org/cat/show/666